Malaysian 5G users now emjoy download speeds 11% up to 353.1Mbps Users' scores have tripled in Kedah, Terengganu, more than doubled in Pahang.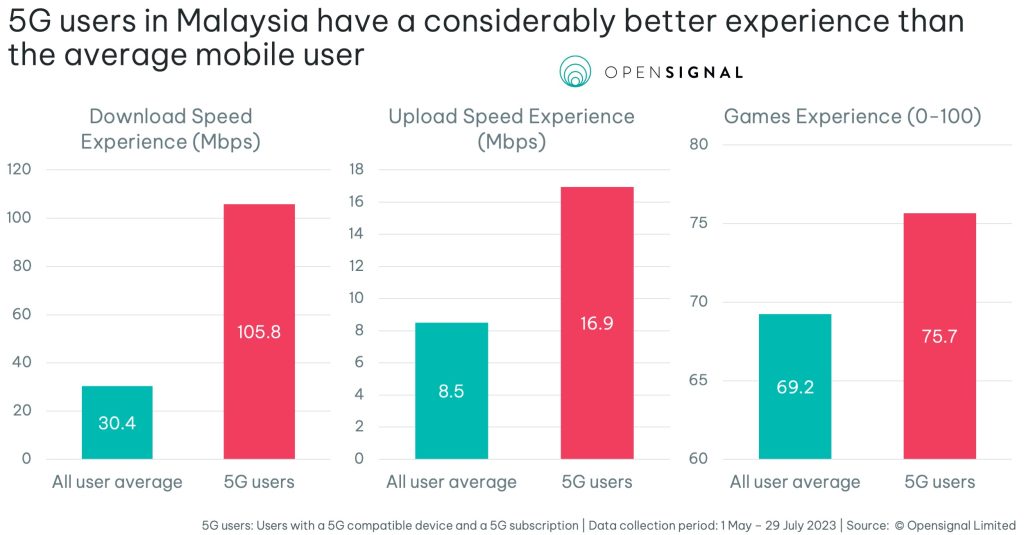 According to mobile analytics company OpenSignal, the mobile environment in Malaysia has undergone a notable improvement with the availability of 5G, with users spending significantly more time connected to 5G networks, resulting in access to faster download and upload speeds than ever before. "Despite 5G having only been available for a relatively short time in Malaysia, many benefits provided by 5G are already clear: 5G users have a significantly faster mobile experience than the country average and have a much better experience playing mobile games," said OpenSignal.
In about eight months between November 2022 and July 2023, the 5G availability has risen by 3.3 percentage points, from 17.7% to 21%, meaning that Malaysian 5G users now spend over a fifth of their time with a 5G connection. Additionally, download speeds have increased by 11%, reaching an impressive 353.1 Mbps.
Moreover, it's not just the 5G network that's seen a surge in performance. The 4G network too has reported a nearly 20% increase in download speeds, likely due to the reduction in network congestion given offloading of traffic to the 5G network.
The cutting-edge 5G technology offers enhanced mobile experiences most notably in the improved speeds it offers. Users with 5G connections have reported upload speeds that are 5.4 times faster than 4G and download speed boosts that are 14.4 times higher.
An analysis of Malaysia's 14 regions, including the capital city, Kuala Lumpur, confirms the widespread positive impact of 5G. Most regions posted increased 5G download speeds, with Terengganu leading the way, witnessing a sizeable lift of 91.9 Mbps. Improvement in 5G availability is similarly widespread, with users in Pahang, Kedah, and Terengganu experiencing remarkably expanded connectivity.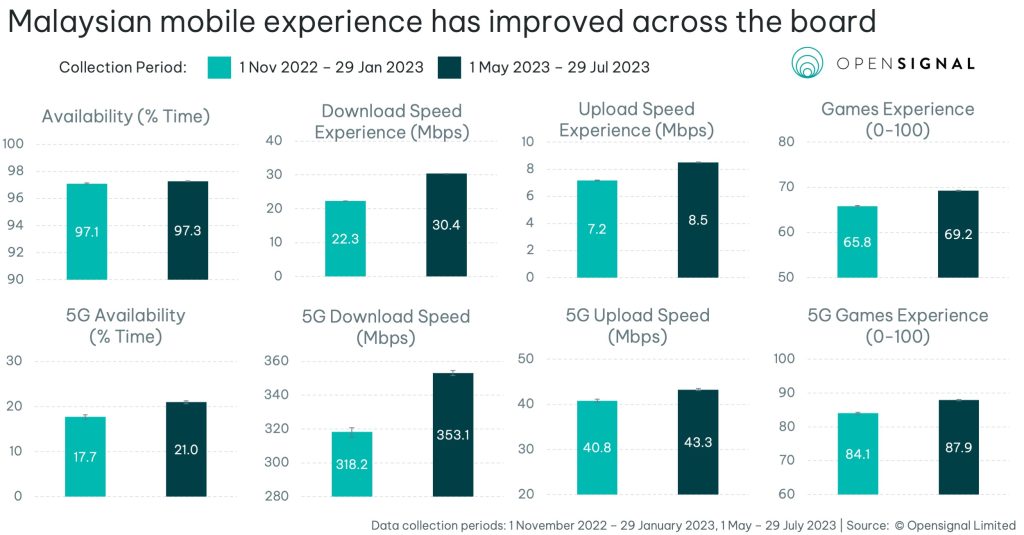 Interestingly, the benefits of 5G extend beyond speeds and availability with 5G users across Malaysia giving feedback that they are enjoying better mobile gaming experiences. Average gameplay experiences for 5G users, which are rated between 'good' and 'fair,' suggest smoother gameplay, immediate feedback, and negligible delays, showcasing the broad-spectrum benefits of the technology.
As all six national operators, including the late entrant, Maxis, embrace 5G technology, OpenSignal notes that it opens a new chapter for mobile connectivity in Malaysia. "Now that all six operators have signed on, it will be interesting to see how the network will mature and evolve."