Inflation-stoking collapse in naira reaches new extremes. Nigeria's currency has tumbled to record lows against the US dollar, putting further pressure on new president Bola Tinubu as he tries to reform Africa's largest economy.
Tinubu took the reins in May, pledging to break with the policies of his predecessors and attract foreign investment to Nigeria. Allowing the naira to float more freely against the dollar was part of that agenda.
But the currency has been sliding ever since that break from the dollar in June. This week it slumped as low as N880 to the dollar on the official market, according to data from LSEG. This has bumped up the cost of crucial imports and helped to stoke inflation, while investors have yet to be persuaded by the reforms.
One big factor in the naira's heavy decline is a scarcity of dollars, observers say. The Central Bank of Nigeria's 2015 ban on certain companies accessing dollars pushed importers to the unofficial market and contributed to a "surplus demand for foreign exchange", the CBN admitted this month.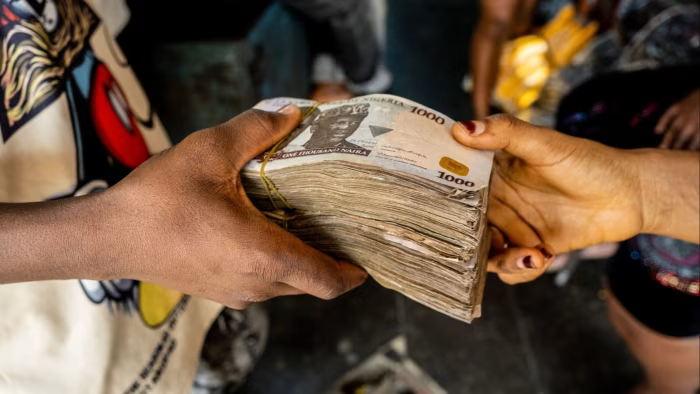 The shift has led to dramatically weaker prices quoted on unofficial markets. On abokiFX, an online trading platform, the rate touched N1,290 to the dollar.
"Nigeria is a country in dire need of foreign exchange," says Wilson Erumebor, a senior economist at the Nigerian Economic Summit Group think-tank.
"The policymakers need a clear-cut policy direction to attract forex into the economy. What's happening with the currency lately shows how little confidence there is in the naira."
Under Tinubu's predecessor, Muhammadu Buhari, importers were barred from accessing dollars from the official market, in an effort to boost local production. Now, under new governor Olayemi Cardoso, a former Citi banker, the central bank is adopting a "willing-buyer and willing-seller" model where prices are determined by market forces.
But eliminating the peg in June led to the biggest single-day fall in the currency's history. Partly as a result, inflation last month soared to 26.7 per cent, the highest level in two decades.
Charlie Robertson, head of macro strategy at FIM Partners, an asset management firm, said the currency fall made the government's balancing act more difficult.
To ensure that foreigners and locals who hold dollars are incentivised to stay in Nigeria, they need attractive interest rates, he said. The CBN's key lending rate is 18.75 per cent, lagging far behind inflation.
Line chart of Naira per US dollar showing Nigeria's currency slides in the wake of radical economic reforms
But raising rates would push up interest costs, he warns. "Allowing naira depreciation without interest rates high enough to make the naira attractive, means the naira is likely to overshoot and become far too cheap and that hurts confidence."
"Nigerians, let alone foreigners, don't want to lose money owning naira when they make more in dollars buying Nigerian bank bonds," he added.
Analysts and economists have warned the local foreign exchange market needs more dollars to calm the naira's slide.
"There is too much demand but not enough supply," one parallel market trader said. In the past the central bank may have intervened in the market but has not done so this time, the person, said, forcing everyone to scramble for dollars.
Capital importation into Nigeria fell by 33 per cent to $1.03bn in the second quarter of this year, compared with the same period last year, according to data from Financial Derivatives Company, a Lagos-based consultancy. "The inflow of dollars remains limited due to policy uncertainty and lingering security issues," it said in a research note.
The average daily value traded in the Nigerian Autonomous Foreign Exchange Market — a central bank facility for investors and exporters to trade currency between themselves — dropped 22 per cent to $101.37mn this month in the second quarter of the year, data from FDC found.
Sources of foreign exchange remain elusive. The country's largest source of dollars is selling oil but Nigeria is producing less than its daily Opec quota of 1.8mn barrels a day. The country has external reserves of $33.28bn, which has fallen month-on-month despite rising oil prices.
An oil-for-dollars scheme for NNPC, the state oil company, to receive $3bn from the African Export-Import Bank (Afrexim), was announced in August but the money has yet to materialize.
Finance minister Wale Edun said earlier this week the government had a "line of sight" on $10bn of inflows into Nigeria in the coming weeks without providing further details.
Many businesses say they have money stuck in Nigeria, with airlines being hardest hit. Nigeria tops the list of countries with trapped airline funds, according to a June report by the International Air Transport Association, with the west African nation accounting for $812.2mn of the $2.27bn trapped globally.
Erumebor said the weakening naira also showed that Nigeria's low productivity and focus on oil remains a problem. "A falling naira should make exports competitive," he said. "Nigeria should be leveraging exports to the rest of the world but it doesn't make enough of anything to export."