A flood of false information, partisan narratives, and weaponized "fact-checking" has obscured efforts to find out who's responsible for an explosion at a hospital in Gaza.
Last evening, at approximately 7 pm local time, a powerful explosion shook the Al-Ahli Baptist Hospital in Gaza City. However, the immediate aftermath of the incident was marred by a flurry of conflicting narratives, disinformation, and a race among various sources to break the news first. This confusion was further exacerbated by mainstream media outlets disseminating official statements without conducting thorough fact-checks, leading to a chaotic information landscape where the true events remained unclear to all.
Moments after the explosion was reported, Gaza's health ministry claimed the blast was caused by an Israeli rocket attack and that hundreds of people had died, marking what would be among the deadliest attacks of the current conflict between Israel and Hamas, which controls the Palestinian territory of Gaza. News organizations such as The New York Times and Reuters ran with the claim, pushing notification alerts to people's phones with the news that Israeli rockets had killed Palestinians sheltering in a hospital in Gaza. "Breaking news: Israeli strike on hospitals kill hundreds, Palestinian officials say," The New York Times alert read.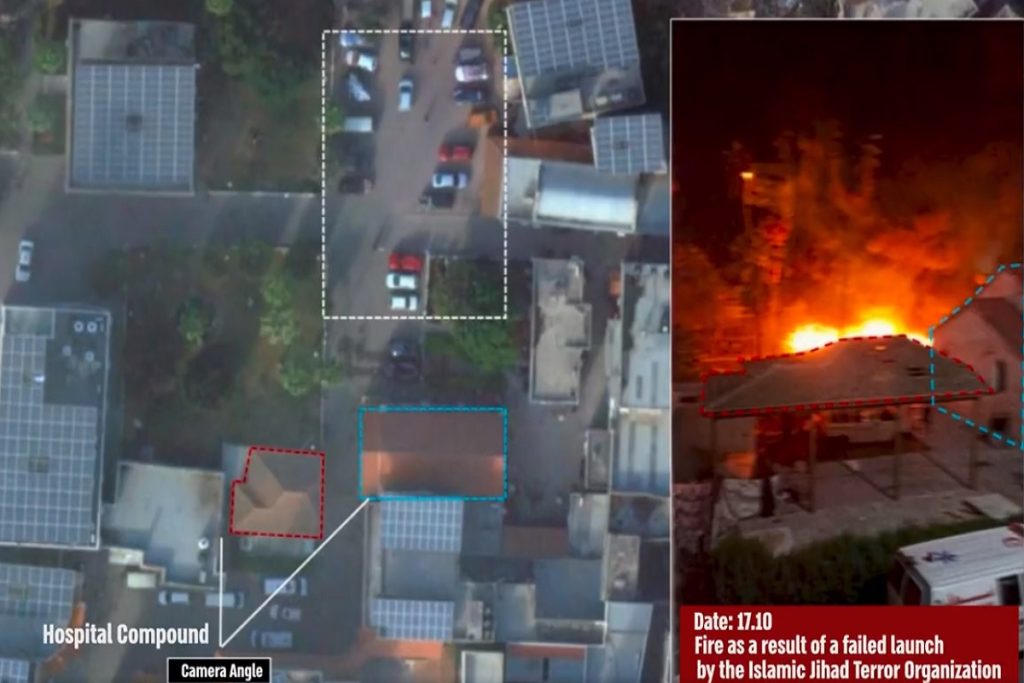 Soon after those push notifications went out, the Israeli military said its intelligence officers had tracked rockets fired by the Palestinian Islamic Jihad, an armed militant group in Gaza that is aligned with Hamas against Israel but often acts independently. Israeli military officials said they observed Islamic Jihad rockets passing the hospital at the time of the strike, adding that it was these projectiles—not an Israeli rocket—that hit the facility's parking lot.
News organizations quickly changed their headlines to reflect the counterclaim from Israel and pushed out more notifications to their audiences. The updated headline from The New York Times read: "At least 500 dead in blast at Gaza hospital, Palestinians say."
This was only the beginning of the confusion.
In the hours after the attack, @Israel, the official Israeli account on X (formerly Twitter), posted a video it claimed was proof that the explosion was the result of a misguided rocket launched by Islamic Jihad militants. But within minutes, Aric Toler, a former Bellingcat researcher who now works for The New York Times, pointed out that the time stamp on the video showed 8 pm local time, a full hour after the explosion took place.
"When you see people in such a capacity putting out a claim, walking it back, putting out a video, deleting the video, it makes it tough, not just for us to do our job, but even for the public to find out what's going on," Koltai says.
The post on Israel's official account was subsequently edited to remove the video while maintaining its claim that the attack was not the result of an Israeli strike.
Meanwhile, social media was flooded with videos and images that claimed to provide proof of the origin of the attacks, with many accounts making definitive judgments about those they claimed were responsible for the attack, all without any actual proof.
For experts in the OSINT community who have spent years working on incidents just like this, the confusion and misinformation were frustrating. Figuring out what happened takes time, and the deluge of misinformation only made that work more difficult.
"It's because we are trying to track a rocket, at night, via a couple of livestreams, a security camera, and a phone camera," an OSINT researcher, who posts anonymously on social media using the handle OSINTtechnical, tells WIRED. "Oh, and there are bad actors purposely trying to muddy the waters. I would say we still have an acceptable number of resources to see into Gaza, but it takes some time to parse everything to a complete degree."
The researcher adds that their job was made infinitely more difficult by media outlets running with the claim that Israel was responsible. "That blows everything out of the water," OSINTtechnical says.
Koltai says she began trying to figure out what had happened within hours of the incident, before her colleagues in Europe took over today. Despite being among the first to begin investigating the incident, as of this afternoon Bellingcat had still not confirmed how the attack happened or who was responsible.
Similarly, the BBC Verify team published its analysis of the explosion based on the available information but has been unable to conclude what exactly happened. A number of videos captured with mobile phones and circulated on social media appear to show the moment of the explosion from different angles. A livestream operated by Al Jazeera shows two flashes, one further away from the camera and one much closer, which some claim shows the rocket launching, followed by the explosion. Footage captured this morning shows the hospital's parking lot, and what appears to be a small impact crater. Footage shows damage to a number of cars, but only minor damage to the exterior of the hospital building.
In the days since Hamas attacked Israel on October 7, people claiming to be OSINT practitioners have emerged on social media who are much more willing to make conclusive findings almost immediately than people who have a long history of conducting OSINT work.
This new group is "publishing analysis as quickly as possible when events are taking place, in an attempt to compete for public attention," ​​Francesco Sebregondi, a forensic architect who helps investigate human rights abuses through a technique known as forensic architecture, tells WIRED. "This is of course detrimental to the fundamental goal of citizen-led open source investigations."
The purpose of OSINT investigations is to independently verify information "and to enable counter-investigations of authoritative arguments and sometimes misleading official accounts," Sebregondi says.
Sebregondi says OSINT accounts that rush to post analyses prematurely not only mislead their followers but help bolster the narrative of political actors who may be "counting on the eagerness of some OSINT actors to use any image, material, or data to quickly publish new content or 'analysis'—and thereby more or less directly support its version of the events."
Aside from the apparent bragging rights of being first, there is also now a financial incentive to post updates before anyone else because if you're "first and put out a hot take even if you're maybe not correct you can actually get paid out for it," Koltai says, referring to X's revenue-sharing program.
Fact-checking and open source investigations have long been seen as a way to hold platforms accountable by debunking disinformation that spreads unchecked on social media, but the Israel-Hamas war has shown how the language of OSINT investigators has been co-opted by self-interested parties, says Caroline Orr, a behavioral scientist and postdoctoral researcher at the University of Maryland who tracks disinformation online.
"I think one of the most disturbing aspects of studying disinfo is when you realize that even fact-checking has become weaponized," Orr wrote on X. "Most people don't care about the truth about the hospital being bombed; they just care about finding a truth to use against the other side."