Thalapathi Vijay Wiki, Bio, Age, Profile, Wife, Girlfriend, Images | Full Details : Vijay is one of the leading and highest-paid actors in the Tamil Film Industry, he acted in 66 films and many more films are waiting to be released in theatres. he's not only an actor but also a playback singer and a dancer.
He also worked as a child artist in Tamil movies, he got the worldwide fan base
He received many awards for his dedication to films, he has an international fan following, and a substantial genuine fan base all over the country earned so much support and love for some of his contributions he attracts his fans with his simplicity and a good attitude.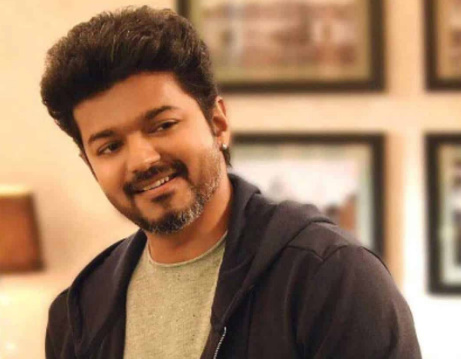 Early Life and Family
Joseph Vijay Chandrasekhar is known as Vijay and Thalapathy Vijay, fans worship him as their god of movies, he is not only famous for his acting and movies but also his attitude.
He was born in Madras(Now Chennai) Tamilnadu, on 22 June 1974, his father Chandrasekhar is a director his mother Shobha is a Carnatic vocalist and playback singer as well.
Vijay's mother is a Hindu and his father is a Roman Catholic Christian, Vijay lost his sister Vidhya when she was two years, and that incident affected him much that he couldn't come over that situation for a long time, he used to be very naughty but when he lost his sister he became a silent and introvert.
He completed his Schooling at Fathima Matriculation Higher Secondary School, Balalok Matriculation Higher Secondary School, after completing his School education he enrolled in Loyola College to complete his graduation in Visual Communication.
Name:  Joseph Vijay Chandrasekhar.
Hometown: Chennai, Tamilnadu, India.
Age: 49 Years.
Height: 5″10.
Weight: 73 kg (Approx.)
Fathr's Name: S.A Chandrasekhar (Filmmaker)
Education: Degree in Visual Arts.
Occupation: Film actor, Playback Singer, Dancer.
Nationality: Indian.
Religion: Christianity.
Zodiac Sign: – 
Spouse: Sangeetha Sornalingam (m. 1999)
Personal Life
Sangeetha Sornalingam is a Sri Lankan Hindu British Tamilian, Vijay met Sangeetha In the United Kingdom she is a big fan of him and proposed to Vijay, and he also accepted her proposal.
Eventually, it went to the marriage and they got married in 1999 on August 25, this couple was blessed with beautiful children a son Jason Sanjay in 2000, and a daughter Divya Shashain 2005.
Movie Career
When Vijay was 10 years old in 1984 he entered into films as a child artist he acted in the movie called Vetri, and for that movie, his remuneration was five hundred rupees, and with that movie, he started admiring movies.
He continued acting as a child artist in many movies after the Vetri movie, he acted as a child actor in Kudumbam, Vasantha Raagam, Sattam, Oru Vilayaattu, and Ithu Engal Neethi, later he went on to concentrate on his studies.
After completing his education his father was asked by Vijay to launch him at the age of 18, his father S.A Chandrasekhar decided to launch his son so he started doing a film called Naliya Theerpu in 1992 with Vijay, his mother was the producer of this movie.
So at the age of 18, he started his proper film career as a lead actor, and the journey continued he later starred in many movies like Sendhoorapandi in 1993 which was a romantic entertainer, Rasigan in 1994 action and romantic movie, Deva in 1995 action movie and Coimbatore Mappillai in 1995 which was a comedy entertainer movie.
These movies gained huge success at the box office with commercial success, following the year in 1996 he acted in a movie called Poove Unakkaga was directed by the famous Tamil Director Vikraman, the movie was a success and Vijay got real stardom with this romantic and comedy entertainer.
After the huge success of these movies he improved his acting skills and started showing his real performance of him to the audience, he nailed his outstanding performance in movies like Kaalamellam Kaathiruppen and Love Today.
By the time of 2000, he acted in 25 hit movies, and he became one of the leading actors in the Tamil film industry.
Stardom 2003-2011
Vijay became the most wanted and busy hero by doing many hit films from the beginning of his film career, he choose good films with amazing content, and directors used to line up to narrate movie stories to him.
One of his movies Azhagiya Tamil Magan in 2007 was a blockbuster at the box office collecting a gross of up to 1.5 million, it was a musical hit film too, with music by A.R Rahaman.
This film was listed in 2007 in the top ten Asian films Box Office Chart which is in Malaysia, by the time of 2009 he completed his 50 films in the Tamil Film industry including Sura which was a flop movie.
After so many hit-and-flop films in 2011, he acted in the film called Kaavalan which was the remake of the Bollywood film Bodyguard, it was a huge success and went to play at Shanghai International Film Festival.
The film also joined the 100 crores club with worldwide collections of ₹102, it was a commercial success and earned a good response from the audience.
In 2012 the famous director Shankar directed Nanban movie which was about a comedy entertainer with a sensitive storyline of three best friends and their ambitions in life.
It was the remake of the Hindi movie 3 Idiots, the film was a blockbuster hit Vijay was the lead actor in this movie also he shared his screen with two other heroes Jeeva and Sri Ram.
Vijay performed well in that movie and it went to play at Australia Melbourne International Film Festival, it was played for about 100 days on the screens in many theatres.
The film collected around  ₹150 plus crores in India, later he starred in an action movie called Thuppakki a comedy action entertainer after he acted in many hit movies.
Later many of his films were dubbed into many other Indian Languages like Telugu, and Hindi Malayalam, with his recent hits Bigil, Sarkar, Mersal, and many other films getting dubbed into the Telugu language along with many other Indian languages.
The Telugu audience also started admiring him for his different acting and unique mannerism, he got the biggest fan following in Telugu than any other Indian language.
Awards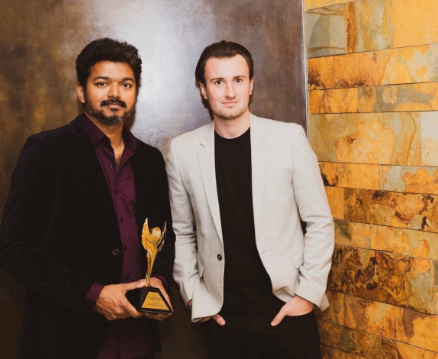 In India, many places and Kanyakumari Museum unveiled Wax figures of Vijay, he won 41 awards for his dedication to the film industry, he won awards like
Tamilnadu State Award.
Osaka Awards.
Kalaimaamani
Honorary Doctorate
Zee Cine Award.
Variety Film Award.
Gaana Music Award.
Isaiaruvi TV Award.
Cinema Express Award.
Roja Duke's Film Award.
Film Today Award.
Mathrubhumi Film Award.
Madras Club Award.
Dinakaran Award.
Indiatoday Award.
Kumudam Award.
Cosmopolitan Award.
Techofes Award.
Asianet Film Award.
Ananda Vikatan Cinemaa Award.
Behindwoods Gold Medals.
Edison Award.
South Indian International Movie Award.
Star India Award.